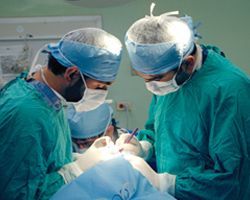 The Bariatric Surgery Center of Excellence is committed to providing top-notch medical care for our patients that choose to undergo weight loss surgery. Located conveniently at the state-of-the-art facilities of La Peer Health Systems in Los Angeles, the Center of Excellence offers comprehensive surgical and non-surgical alternatives to patients wishing to lose a significant amount of weight.
If you wish to schedule an appointment with our world-class bariatric surgeons (Dr. Amir Mehran and Dr. Samuel Kashani), contact us today at (888) 391-0182.
Benefits of Weight Loss Surgery
Gastric Sleeve Surgery
Gastric sleeve surgery is a bariatric procedure that induces weight loss by restricting food intake. With this procedure, the surgeon removes the hormonally active portion of the stomach laparoscopically so that the stomach takes a "sleeve" or tube shape. This form weight loss surgery can be performed on all patients, with very few exceptions.
---
Gastric Banding
Lap band surgery (or more specifically, gastric banding) is a laparoscopically performed medical weight loss procedure. It is considered to be one of the least invasive approaches to treat obesity because incisions are made to neither the stomach nor the intestine. The amount of weight loss with gastric banding depends on the patients' motivation and commitment to a new lifestyle and healthy eating habits.
---
Band Removal
A gastric band is intended to be a long-term implant; however, it is important not to assume that a band will be a permanent device. Some patients go through weight loss surgery and find themselves needing to reposition, replace or remove the band sometime during their life. As a result, our Los Angeles bariatric surgeons offer band removal procedures.
---
Gastric Bypass
The gastric bypass is a very common weight loss procedure. Gastric bypass surgery reduces the stomach size and reroutes a limited amount of the intestinal tract. As a result, food intake is limited, patients are "full" quicker, and what is consumed is not fully absorbed. Our surgeons only recommend a gastric bypass when all other dieting, exercise, and medicine programs have failed to produce sufficient weight loss.
---
Duodenal Switch
The duodenal switch procedure causes weight loss by limiting the amount of food that can be ingested and significantly restricting the number of calories absorbed by the body. Technically, this is accomplished by both the reduction of the stomach volume and a very extensive intestinal bypass. This bariatric procedure is only for extremely obese patients with a very high body-mass index or a severe metabolic syndrome.
---
Body Contouring
After the significant weight loss that takes place after gastric surgery, usually 15 to 18 months post-surgery, there is excessive skin remaining. Generally speaking, the skin does not retain its elasticity so when you lose weight, your skin does not shrink to fit your new body. As a result, we offer body contouring after weight loss surgery.
---
Become a Weight Loss Surgery Success Story
At La Peer, our Beverly Hills surgeons provide each of our patients with pre-surgical consultations to help prepare you for this time. Schedule your consultation today by calling us at (888) 391-0182 or filling out our website contact form. We look forward to helping your reach your weight loss goals and achieve a healthy quality of life.
Next, read about body contouring.
We'd love to verify your insurance for you! Go to our free insurance verification page!